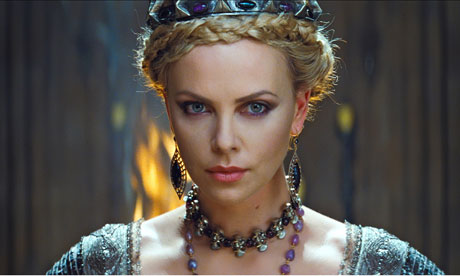 Cast
Kristen Stewart as Snow White[5][6]
Charlize Theron as Queen Ravenna.
Chris Hemsworth as Eric, the Huntsman.
Sam Claflin as William, Snow White's childhood friend.
Lily Cole as Greta, a young woman who befriends Snow White.
Sam Spruell as Finn, Ravenna's brother and enforcer.
Vincent Regan as Duke Hammond, William's father.
Noah Huntley as King Magnus, Snow White's father.
Liberty Ross as Queen Eleanor, Snow White's mother.
Christopher Obi Ogugua as the voice of the Magic Mirror.
The Dwarves
Bob Hoskins as Muir.
Ian McShane as Beith.
Johnny Harris as Quert.
Toby Jones as Coll.
Eddie Marsan as Duir.
Ray Winstone as Gort.
Nick Frost as Nion
Brian Gleeson as Gus.
I was quite excited to watch this movie but did not have much expectation for it. This is the second Snow White movie this year, and Mirror Mirror was pretty decent. Without revealing the story much too much, I would say that this is a very different Snow White faery tale you may be used to. It is quite interesting and the special effects is indeed pretty good. As I recall, the fable of Snow White and the seven dwarves has several things, 1) poison apple 2) show white 3) seven dwarves 4) magic mirror 5) step mother 6) old woman 7) kiss 8) prince 9) happily ever after In this story, the director tries to combine all of the above in an adult version of the fable. However, I did not understand why the dwarves seemed British, and why they did not use 7 real dwarves like Mirror Mirror. Are there so few dwarvern actors? The dwarves did not even play an important role in the story and can totally be left out. (yes there were 8 dwarves and one died) The story seemed to have quote a bit of plot holes. The pace of the story is quite ok, though dull and flat at some points, it is generally interesting. I have a few things which I dislike about the movie. The step mother / queen was supposed to be evil, and takes the "youth" off people to make herself young again. Strangely, she did not kill Snow White when she was young and the when she met Snow White alone, she could have just killed her and get her heart instead of giving her the poison apple which was not poisoned much after all. I watch a matinee, and did not even felt that my money was worth it. Overall: 4/10 If you want to watch, wait for it on Netflix or other online streaming. -- Robin Low