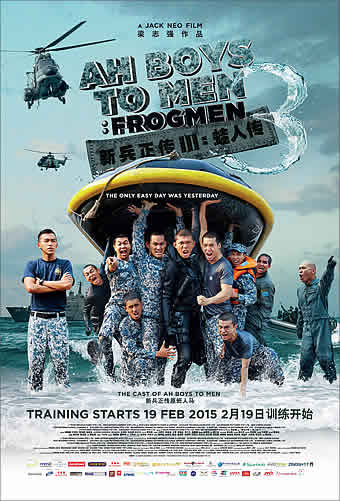 Ah Boys to Men 3 is an anticipated sequel, however, this is of a totally story arc, and there is no relation to Ah Boys to Men.
This is another Jack Neo movie, no double about it. The hyper local jokes, are very good, provided you know Singapore, and then again, the whole premise of Ah Boys to Men is very Singapore centric.
I'd say the overall acting and story is pretty good. Many Singaporeans who serve NS will relate to many of the jokes and the characters in the movie. However, I do feel that the special effects in the beginning of the movie is very bad. What's worse is -- the beginning terrorist scene is not even needed and does not really relate to any part of the story.
Being a movie, the whole pro-NS part is clearly seen, and it is rather enjoyable movie for Singaporeans. A good command of Singlish and Singapore context, as well as Cantonese and Hokkien is required to understand the movie and appreciate it.
-- Robin Low
Great movie: 7/10
A great show to watch, especially if you have served NS